Ref:
Date:
Location:
Photographer:
Ref:
Date:
Location:
Photographer:
The Wild Bunch
"The Wild Bunch" are a group of Midlands wildlife artists and friends, all members of The Wildlife Art Society International, who hold joint exhibitions of varied work.
In 2018, The Wild Bunch will be exhibiting together at:
Floor One Gallery,
Rugby Art Gallery & Museum, Little Elborow Street, Rugby CV21 3BZ
from 11th to 23rd August, 10am - 5pm Monday to Saturday, 10am - 4pm Sundays.
At least one of us will be there each day, demonstrating our work.
The Artists:
Sarais Crawshaw from near Rugby, works in acrylic, pastel, papercut and mixed media. She is particularly interested in British wildlife, and cats of all sizes.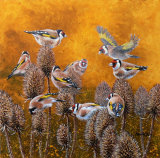 Lesley Connolly from near Bewdley works mainly in pastel, acrylic, charcoal and linocut, putting life and movement into paintings of wildlife and farm animals.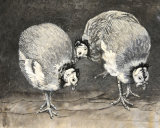 Chris Saunderson from Kenilworth has experimented with mixed media, acrylic and watercolour, and uses an impressionistic style in inventive work.